Biography
"If you think there's nothing very invigorating about watching a band play other people's songs, you haven't seen Herding Cats." -  The Seattle Times 
Herding Cats are a classic rock cover band from Seattle, WA. The powerhouse trio features lead singer & drummer Jon Bolton, Mike Mattingly on guitar & vocals, and dune butler on bass guitar & vocals. 
Herding Cats have been performing at bars, clubs, casinos, weddings, private parties,  corporate & various events locally & internationally since 2001. They are well-known for their incredibly talented, high-energy, humorous, and wildly entertaining performances. they are respected and admired for their down-to-earth personalities, professionalism, and integrity-filled work ethics. 
Herding Cats are dedicated to making sure their guests have an extraordinarily good time. They often take requests, periodically let patrons sing with them, and they are famous for their drummer's zany and hilarious antics while performing. Their shows creatively combine next-level musicianship with humor and non-stop intense live music allowing you to smile, dance, laugh, and rock out! 
Collectively, Herding Cats members have shared stages with artists such as Poison, Roger Daltrey (The Who), Alan White (Yes), Paul Rodgers (Free, Bad Company, Queen), Paul Allen, Bruce Willis,  Poison, Kid Rock, OneRepublic, Pitbull, Don Felder (the Eagles), Flo Rida, Huey Lewis and the News, Tone Lōc, Bryan Adams and many more.
Herding Cats was named "2018's Best Band" by 425 Magazine.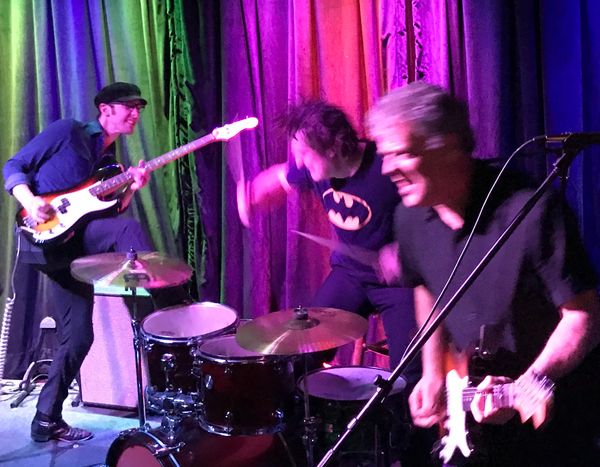 Testimonials
"

If you think there's nothing very invigorating about watching a band play other people's songs, you haven't seen the Herding Cats."
"

When friends or family visit me in Seattle, one of my top priorities is to make sure that they catch a Jon Bolton performance before they leave!"
— Bryan Walters - Seattle Seahawks
"

As a booking agent and promoter for live music since the 80's, it has been a pleasure working with Herding Cats due to their professionalism, attitude, and reliability. All that aside from their incredible talent."
— Dean Zelikovsky - Booking Agent & Promoter - Machine Entertainment & Emerald Downs Casino
"

I'll always remember great times in Ballard, and seeing the Herding Cats at Wilde Rover in Kirkland."
— Russell Okung - Seattle Seahawks
"

Even when he is just sitting there playing, he's never just sitting there playing — forever twirling his sticks, hitting the cymbals behind his back, keeping time by hitting himself in the head."